Help the Club at No Cost by Signing Up for Amazon Smile
Amazon provides the ability for you to select a charity for them to give back to at no cost to you or to the Club. Use this link to choose our Club for this quarterly donation. Share with your friends and family.
Support Naval Academy Parents Club of West Virginia Inc by shopping at AmazonSmile.
When you shop at AmazonSmile, Amazon will donate to Naval Academy Parents Club of West Virginia Inc. Support us every time you shop.
Continue that No-Cost Support with Kroger Community Cares
The Club has been officially enrolled in the Kroger Community Rewards program. You may go to your Kroger account online and c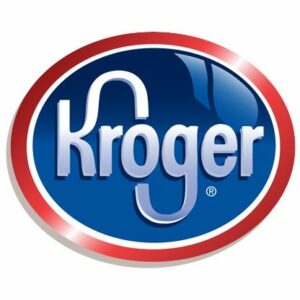 lick the menu (bars near Kroger). On the left hand side of the screen you can choose "Savings." Under "Savings" you will scroll down to find "Community Rewards." Click on that. Click choose or change organization (if you were previously enrolled). You can then use the search box and type in "Naval Academy." Our name comes up for you to select as the charity that will receive quarterly donations from you/Kroger.
Note: You need to do this from your laptop or desktop, not your phone.
Fundraising Partnership with Wendell Forge
Wendell August Forge proudly gives back to the chapters of the Naval Academy through the sales of US Made commemorative Naval Academy gifts.
The Naval Academy will receive 40% of the proceeds for the sale of each USNA Crested Wine Glass set ($55), Pilsner set ($55), or round ornament ($12).  Naval Academy licensing receives 10% and each individual chapter will receive 30%. The items, pictured below, need to be purchased using the UNIQUE link associated with THIS specific click.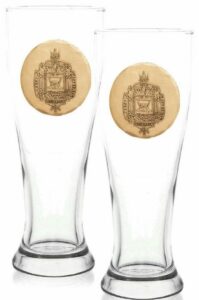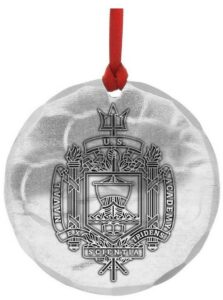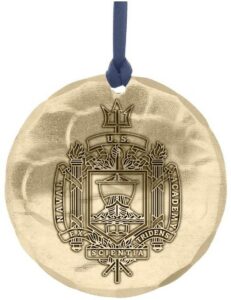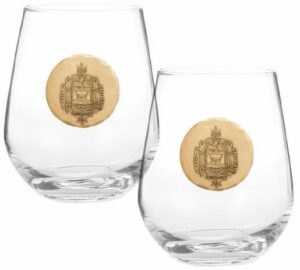 Make Purchases and Contributions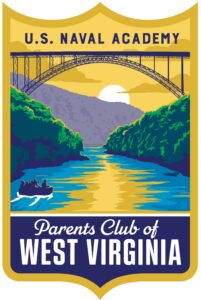 Naval Academy Parents Club of West Virginia (2021-2022), see menu below for pricing, and complete/submit the 2021-2022-WVMembership-FillableApplication (benefits listed thereon — to wvusnaparents@gmail.com)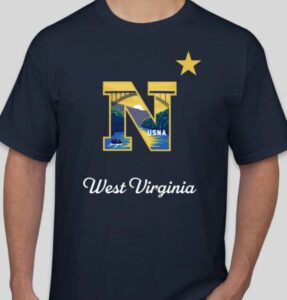 Men's Crew Neck T-Shirt, see menu for pricing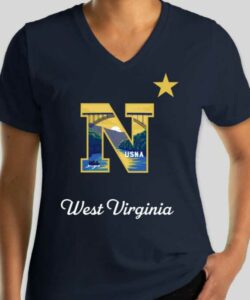 Women's V-Neck T-Shirt, see menu for pricing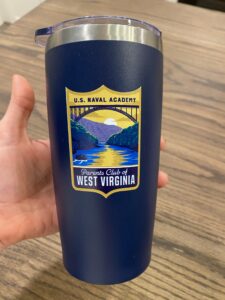 20oz. Travel Hot/Cold Tumbler (clear lid on top), $20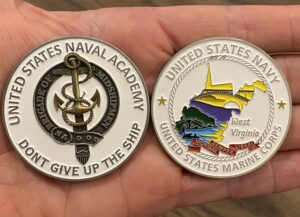 West Virginia Commissioned Challenge Coin, $15, each 2" diameter coin is packaged in a plastic pouch with a tucked flap. Makes a great commemorative gift for family and friends.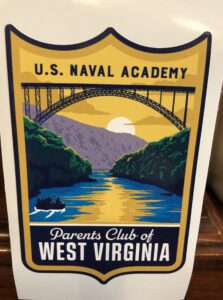 3" x 5" Car Decal, $4 (two free with each paid membership)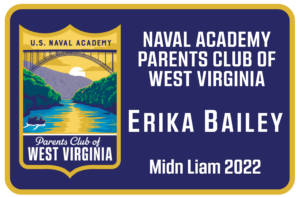 2" x 3" Personalized Magnetic Nametag, $18, (1/16" thick with glossy laminate to protect the face and up to 3 lines of personalization. Submit Name_Tag_Order_PDF Fillable Form with/at payment to wvusnaparents@gmail.com. Orders for these are taken once a year during the summer. Deadline July 15.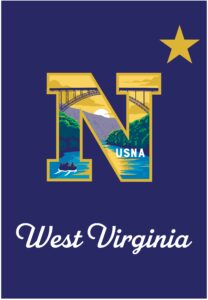 You can support West Virginia's Midshipmen and their families by making a tax-deductible (501c3) contribution by using this link or by mailing a check made to NAPC of WV, 213 Hale St., Charleston, WV 25301. Thank you for your support!
Last viewed by administrator 9/1/2021